About The Minnesota Fire Service Foundation
Here is just some of the media coverage the memorial campaign has received: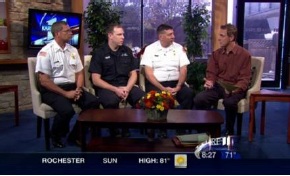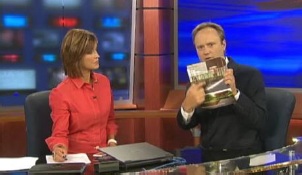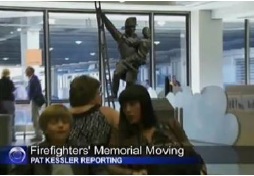 REMEMBERING THE FIREFIGHTERS
JERRY A. REED – DEER RIVER, MINN.
"When I think of Jerry, I think of a smile," Barb Wilhelm says. "He always had a smile on his face." Jerry is Jerry A. Reed, Barb's husband who died in the line of duty in 1990 as a Deer River volunteer firefighter. He was 43 and left behind two sons; the youngest was a senior in high school. "Family and community were very important to Jerry," Barb says. "He was active in church, the Lions Club, Little League and Pony League, and he liked hunting, fishing, camping, archery and running."
Jerry was a volunteer firefighter for more than 10 years, and his full-time job was with the Department of Transportation. "Every time I see a DOT truck, I think of him," says Jim Tarbell, the Deer River fire chief at the time. "Jerry had a wonderful sense of humor; it was easy to have him around."
One day in 1990, Jerry was part of a crew that responded to a barn fire about 5 miles outside of town. An unknown heart condition caused Jerry to collapse at the scene while he was on the hose line. "Fellow firefighters went with him in the ambulance to the hospital, doing CPR the whole way," Jim remembers. "But he didn't make it."
The funeral drew hundreds of people – so many that it had to be held in an arena instead of a church. "The number of people was overwhelming, and I don't say that in a bad way," Barb says. "I heard from so many fire departments in the area, too. Fire departments are amazing; they're just like a family."
A memorial to fallen firefighters on the grounds of the State Capitol would mean a lot to Barb and her sons. "A memorial is such a nice way to remember Jerry and all the fallen firefighters and all that they've done," she says. "We would definitely visit it." To Jim, the memorial would show that all firefighters – full-time and volunteer – are honored and respected. "For the community, it shows the importance of volunteering," he says. "No matter what the cause, we all pull together when needed."
JOHN A. GRYM, HARRY HAWKINSON AND CHANCEY PETTINELLI – VIRGINIA, MINN.
One line of duty death is a tragic event for any fire department, but the Virginia, Minn., fire department has experienced the deaths of several firefighters over the years.
In 1933, relief fireman John A. Grym tried to rescue several men trapped in a well. Grym died during the attempted rescue. More than 200 area firefighters marched in uniform at his funeral.
Firefighter Harry Hawkinson died in the line of duty in 1940. Hawkinson died putting out a fire in a garage and chicken coop in Parkville. He had been a firefighter for 20 years.
Responding to a call on Father's Day in 1958, Chancey Pettinelli died from head injuries sustained after falling from the rear of a fire truck. Pettinelli was a Navy veteran and had been a member of the department for five years.
Retired Captain Jeff Damm thinks it's important to have a more accessible memorial site to pay tribute to fallen firefighters like the ones of Virginia.
"I'm glad it's being done," Damm says of the plans for a memorial at the State Capitol. "People need somewhere to go to give respect to these men."
Damm also said many of the current firefighters in Virginia said they only knew of one firefighter that died in the line of duty in their area; the new memorial site would be a good way to have statewide recognition of all fallen Minnesota firefighters from over the years.
CHARLES E. BIRKELI – MINNEAPOLIS, MINN.
June Holin was just 15 months old when her firefighter father, Charles E. Birkeli, died in a fire at the Old Dutch Foods plant in Minneapolis on September 24, 1965. Charles was in an addition of the seven-story building when the roof and floors collapsed; he was 33 years old. "From what I've heard, his shift was over and he was actually supposed to be going home," June says. "But he went to the fire anyways. That's just the type of firefighter he was."
June's brothers, who were 3 and 5 at the time, remember the funeral and chaos that followed. "My oldest brother understood that our father had died, but I remember thinking that maybe someday he'd come back," she says.
June grew up terrified of fire and of losing her mother as well. "I'd think through what would happen if the house was on fire and decided that if I couldn't get my mom out, I'd just lie down in her bed and die with her," she says.
The children slept with their mother every night for the first year after Charles died. "My mother said she didn't sleep for years," June remembers. "One of us would start crying, and soon we'd all be crying in her bed." Raising three kids alone took a toll on her mother, who passed away in 2005 at the age of 71. It also took a toll on Charles' parents. "He was their only child," June says. "It was devastating for my grandparents."
June says her mother was always incredibly grateful for the pension and support from the fire department that followed Charles' death. It's that same spirit of support that will be represented in the memorial at the State Capitol. "The enormity of the memorial means so much to our entire family," June says. "The firefighters and their families gave up so much. My dad never got to meet his grandchildren; it will be nice to have something to bring them to and show them other than the cemetery. I think I speak on behalf of all families of fallen firefighters when I say it's a wonderful thing."
KATHLEEN GOHMAN – KIMBALL, MINN
One day in late October, Tina Bunting was at her job as a Wells Fargo bank teller when several fire chiefs came in to make a deposit. As they talked, she learned that the money was donated by vendors and firefighters at the recent Minnesota State Fire Chiefs Association Conference in St. Cloud. She also learned that they were depositing the donations into a fund for the Minnesota Fire Service Foundation's campaign to build a memorial to Minnesota's fallen firefighters at the State Capitol – a cause she knows all too well as the daughter of one of those fallen firefighters who died almost exactly 24 years ago.
Tina's mother, Kathleen Gohman, died in the line of duty in 1987 as a volunteer firefighter for the Kimball Fire Department. Katie and her two daughters Tina and Heather were driving home from buying Halloween costumes when they passed an accident. Katie pulled over to provide assistance and was struck by another car. She left behind four young children — 18 months and 3, 6 and 8 years old. "She did everything for everyone else first," her daughter Tina remembers. "She loved life, her friends and family and was always the person you could count on if you needed something."
As a young mother, Katie – as she was known to friends and family – did not have time to attend school and began volunteering with the Kimball Fire Department. "For my mother, it was the best of both worlds," Tina says. "She was able to take care of her family and her community."
When Tina learned of the donations from the conference, she was stunned. "I was so taken back. It was awesome," Tina recalls. "It makes me feel proud; people who don't even know my mom will make these sacrifices for her. Without something like this, no one but our family would remember her."
The memorial at the State Capitol would mean the world to Tina and her family. "I have young children now," Tina says. "They know they have a Grandma Katie but to physically take them some place and help them understand the sacrifice she made – it's indescribable."
JAMES SPILLANE – RICHFIELD, MINN.
When Mary O'Rourke first looked at the list of fallen firefighters, she was only looking for one name: her father's.
It wasn't there.
"I was very surprised that he was forgotten since it was very big news when he died," Mary said. "It was in all of the newspapers and his picture has hung in the training room at Richfield Fire Station since he died."
Mary's father, James Spillane, died in the line of duty in June 1955 while working for the Richfield Fire Department. After discovering he wasn't on the list Mary went to the Minnesota Fire Service Foundation's Facebook page and commented on a post. The foundation responded, "My deepest sympathies to you and your family for your loss. I know that Richfield Fire Chief Wayne Kewitsch is working hard to get your father the recognition he deserves. I am certain James will be included." Within days, her father was added to the list and will be added to the new memorial.
"It means a great deal to our entire family that he's finally honored and remembered, Mary said. "It's been educational for my three kids and my granddaughter to learn more about their grandfather."
It wasn't until the media started covering plans for a new memorial that Mary said she discovered there was a current memorial for fallen firefighters near the baggage claim at the Minneapolis/St. Paul airport – let alone plans for a high-profile, new and more fitting memorial on the grounds of the State Capitol.
"I think it will be great to have a peaceful, reflective-type setting place where families and others can view it and remember those who have lost their lives during the line of duty," she said.
A CLOSE CALL
GREEN ISLE, MINN., FIRE DEPARTMENT
While every firefighter knows the risk of their job, one department had a close-call that made the danger of firefighting a reality.
The Green Isle Fire Department was responding to a call this month when its fire truck rolled over, said Green Isle Fire Chief Scott Vos. Thankfully, no one was seriously injured and Vos said a nearby department was also responding to the call so they were the first ones on scene to help.
"This kind of thing makes a department reassess as a whole," Vos said. "You can't help but think 'I know everyone in that truck.'" While Vos wasn't on the truck at the time of the rollover, he said the whole department still felt shaken but very fortunate no one was hurt.
"It affected our department greatly," Vos said. "Not only the guys in the truck, but also the rest of the department and the other department on scene because we all know each other so well."
When there is a call, multiple departments will typically respond so everyone knows each other, Vos said. Unlike metro-area departments, Vos said, towns like Green Isle get to know other departments very well and it makes tragedy all the more impacting.
"We are all brothers and sisters out here," he said. "It's a ripple effect. So many people are touched in one way or another after tragedy."
Green Isle was hesitant to participate in donating to the new fire service memorial at first, Vos said, because tragedy doesn't affect the rural areas as often as the metro. After hearing Eden Prairie Fire Chief George Esbensen speak about the memorial, Vos said they had more interest, and even more interest after the rollover.
"That made it much more real," Vos said. "I thought 'this is exactly why we need this memorial.'"
Even though the memorial will be far from Green Isle, on the grounds of the State Capitol, Vos said he still likes the idea of having a place for everyone to come together because now they can hold larger memorial services.
"This is something we need as a state and everyone can take ownership in it," Vos said. "Even us rural departments will go down to the capitol and pay tribute. I can't think of a better location."